I love collaborating on recipes – it allows me to step outside of what I normally do and work with other people to create something delicious. You may remember when I collaborated with Grace from @sweetsweetcity to create this chocolate tart, sheet pan dinner…Whenever I collaborate with Grace they are always such appealing dishes I want to just eat them right off the screen! If you don't follow her on instagram you should be!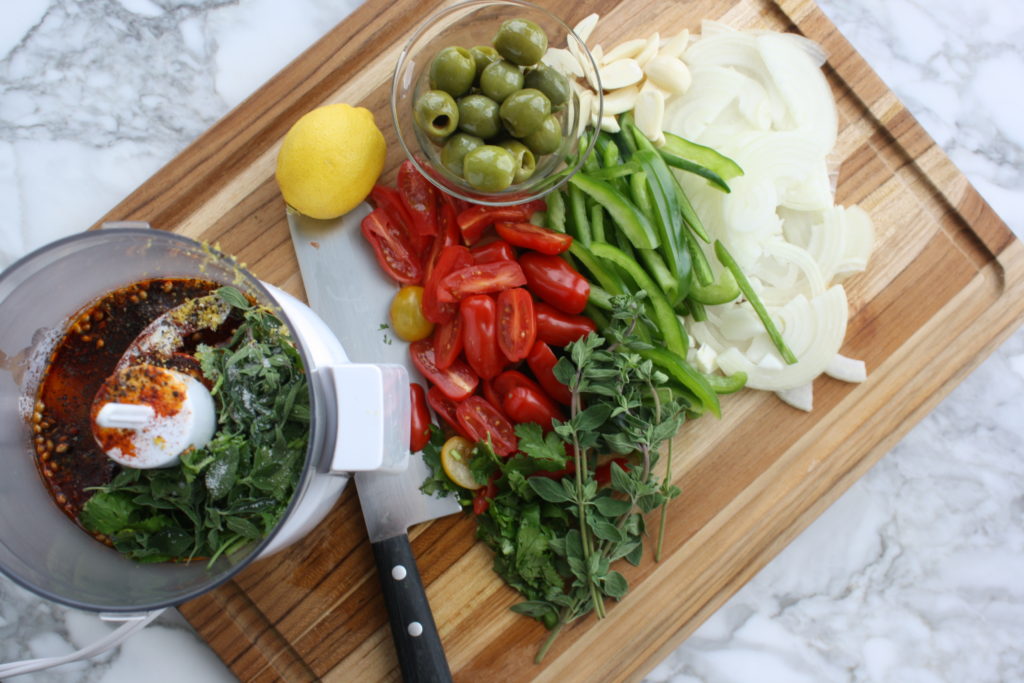 It's always exciting to get back in the kitchen with Grace. This time we wanted to create something light and flavorful and something easy enough to make during the week. To my surprise this dish ended up being unlike anything I have ever had before. It reminded me of a fish stew I made when cooking for Kara back in 2015 but it tasted so unique. I have to admit that lately I have been not been very creative when it comes to my weeknight dinners. I think many of you can relate to this – during the week we tend to do what's easy and accessible. The idea of making something new just seems too stressful and time-consuming.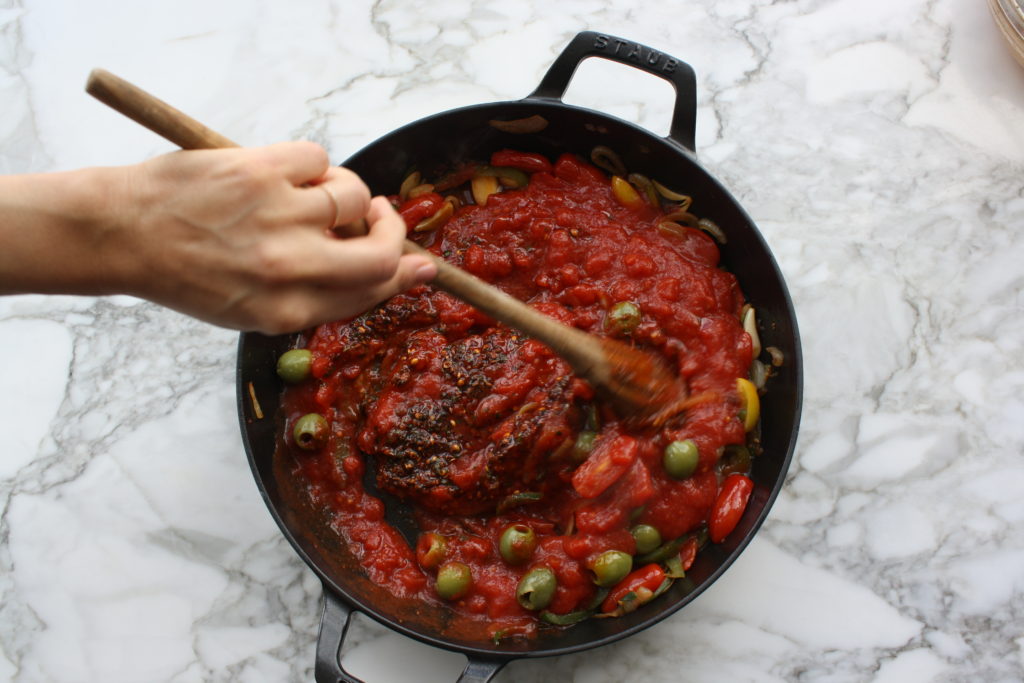 Thankfully you can turn to me for easy recipe solutions! Staying true to my style of cooking, these ingredients will be easy to find at any store and the spices are ones you should have on hand.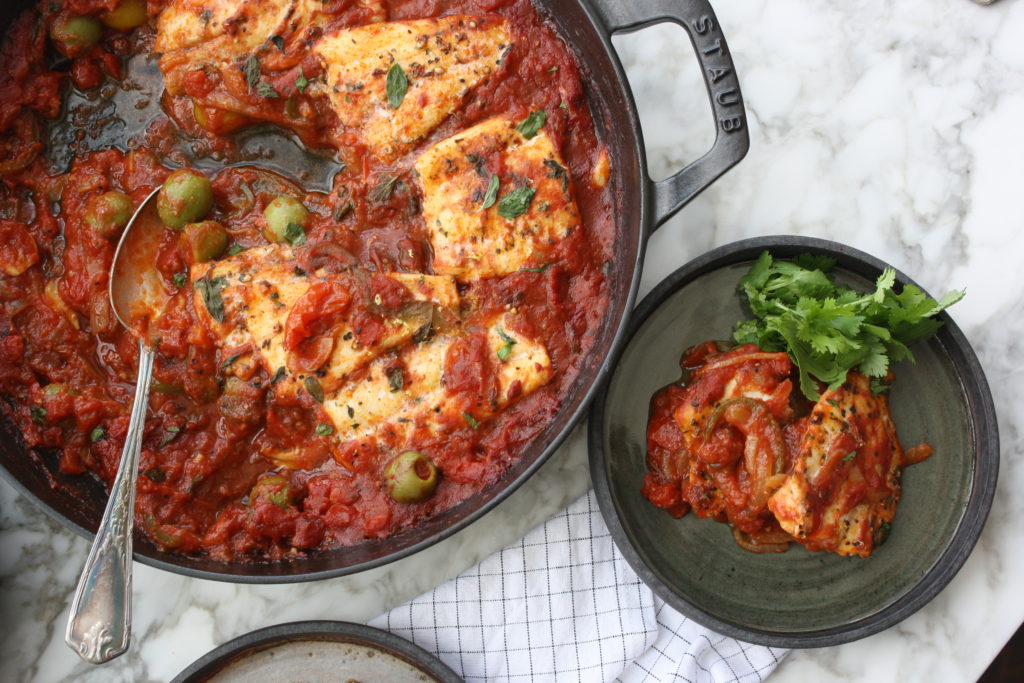 Since Grace had fresh herbs and spices we used those to spice our dish. We ground them in the mini chop when blending the "paste."And I think with this recipe it may be worth it – it tasted so fragrant and special.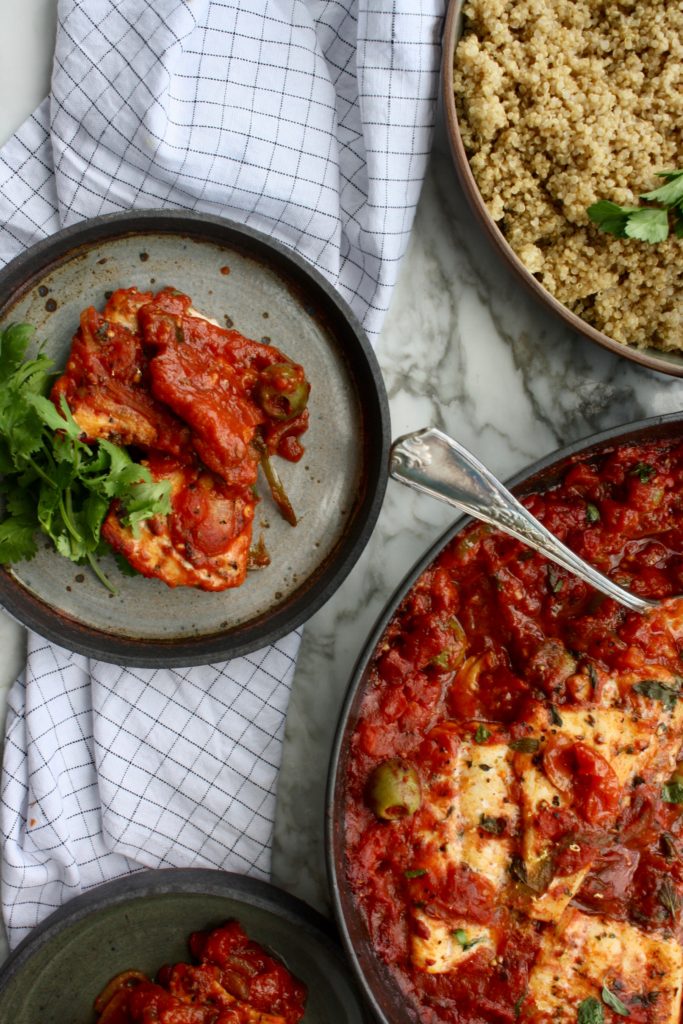 To make this dish a complete meal, serve it with a grain of choice- brown rice, wild rice or even quinoa. I enjoyed it with quinoa and it really soaked up in the sauce. This is also a great dish to serve for a crowd or if you are having a dinner party- it looks beautiful when it's done and is flavorful crowd pleaser.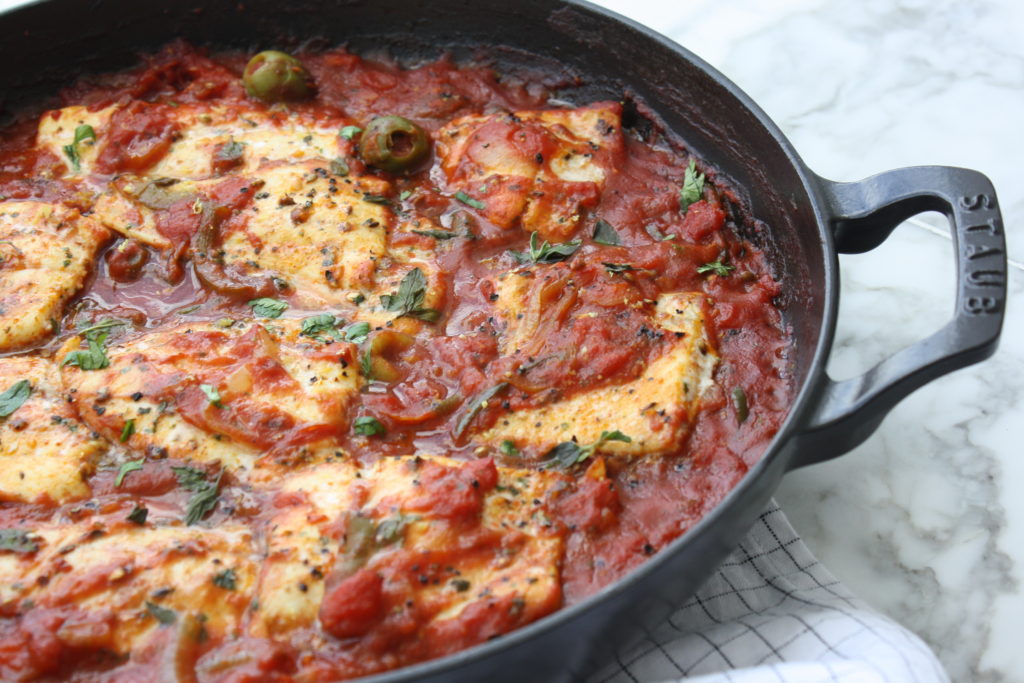 What has been your weeknight staple? I would love to hear! It is something you have found on here?
Recipe
1 1/2 pounds lemon sole
1 green pepper thinly sliced
1 white onion thinly sliced
1 jalapeño seeded thinly sliced
4 cloves of crushed garlic
1 28 oz canned crushed tomatoes
1/2 cup chopped cherry tomatoes
1/2 cup green pitted olives
Paste:
1/4 cup olive oil
4 cloves garlic
zest from 2 lemons
1 teaspoon cumin
1 teaspoon paprika
1 teaspoon coriander
1 tablespoon freshly chopped cilantro
1 teaspoon freshly chopped oregano (or dried)
1 teaspoons salt (or to taste)
1 teaspoon black pepper
Paste Directions:
To make the paste add everything to a mini chop and blend. Blend until thoroughly combined
Fish Dish Directions:
pre-heat oven to 375 degrees Fahrenheit
Place fish in medium size bowl. Take 2 tablespoons of the paste and add it the fish making sure to caught both sides. Place in the refrigerator while you continue to prepare the rest of the dish. Set aside the remaining paste to use later for the stew
Prepare a medium/large oven safe skillet with non-stick spray or oil to coat the pan.
Over medium heat add green pepper, onion, jalapeño and garlic. Cook for 10 or so minutes until golden.
Now add tomatoes, crushed tomatoes olives and remaining paste. Cook for an additional 10-15 minutes.
Now add marinated fish to the skillet. Place in the oven and cook for 15 minutes or until the fish is cooked through (this will depend on how you cut the fish). Serve over rice or quinoa!